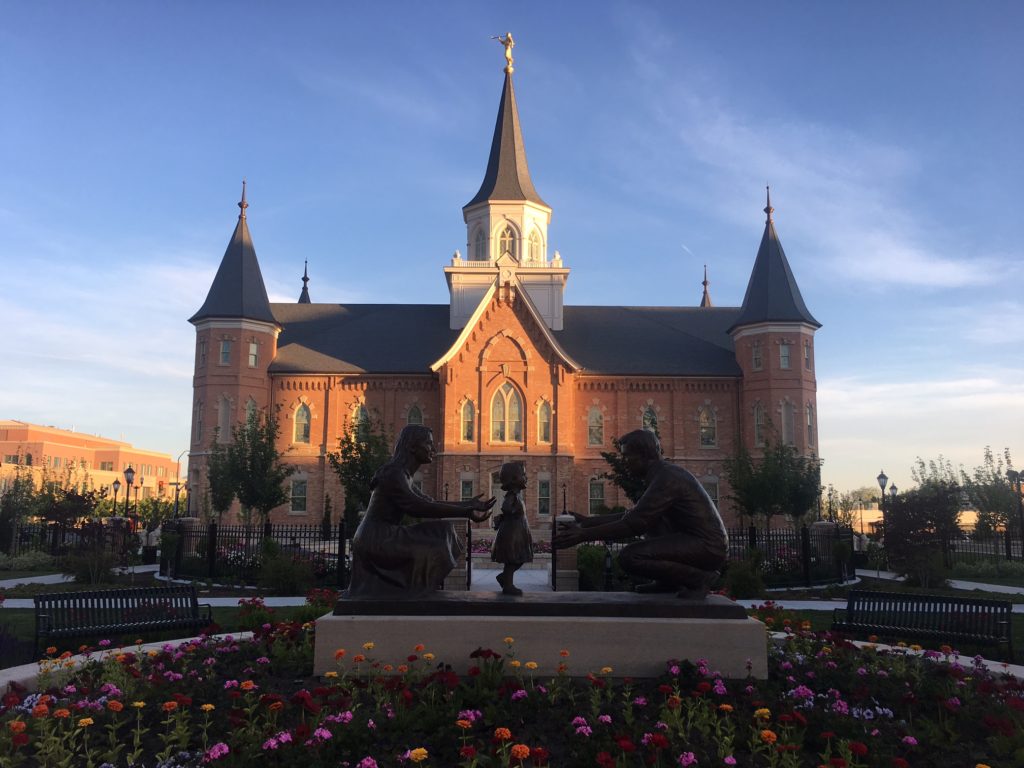 I love this photo of the Provo City Center Temple that Lane took! (Click here to see another beautiful picture of this same scene that I love.)
Lane and I have happy memories of serving in this temple giving tours to the girls, young women, and their mothers before the temple opened last February. The experience of serving together in this capacity helped us look forward to going to the temple weekly (as much as possible) and serving on a mission together someday.
The temple is a place where I get inspired about what kind of home environment I am trying to create. When I go to the temple, I feel peace. I feel soothed. I feel calm. I love the beautiful art, furnishings, light, and music. I have happy memories of attending the temple. I cannot wait for the day when each of our children will be in the temple with us, and then when we can all be there together as a whole family.
One of the gifts of attending the temple is being reminded that beautiful cleanliness greatly adds to the feeling of peace that is there. This past year I have noticed some habits in maintaining our home's cleanliness that have led me to think I still have more cleaning training to do! I decided I needed to up my game and bring some fresh energy to helping the children learn how to clean and maintain cleanliness and organization!
So this year, I want to focus on helping our children learn how to keep their bathroom clean, the piano clean, and to deep clean our home on a rotating basis. And I want to encourage more fun and sociality! So here are my specific goals, that I will work on a little bit at a time on and off during the year:
Prepare a housecleaning plan that includes regular deep cleaning and minimizing to clean out all the unused stuff and make clean up faster and easier and home organization simpler AND try to follow it;
Prepare a bathroom cleaning plan for the children's bathroom that allows them to learn to clean and keep clean that space;
Other "wish list" goals:

Hem the family room curtains;
Minimize/organize/beautify the basement play area;
Finish organizing the spices;
Finish labeling the food buckets in the pantry;
Encourage them to keep "tidy maintenance" habits up: putting away the piano and other music after they have practiced; putting away their laundry after they have folded it (or I folded it); hanging up their backpacks instead of leaving them on the floor; cleaning up after themselves when we have traveled in the car;
Host 4 cousin dinners, 2 on Sunday and 2 simpler ones on a weekend night that can include games after eating;
Host a game night for each child at home.
Here are posts related to this goal for 2017:
Working on the housecleaning plan for 2017
How to clean a toilet in 5 minutes or less
The first day of the rest of you (clean bathroom) life
Bathroom cleaning rewards and governing themselves