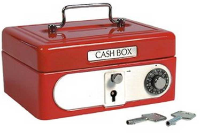 That little cash box was the exact bank at I had for years growing up. (You can still buy it at lovetolearn.net, a great resource for wonderful books and toys that I used to order from when our children were younger. Click on the image to go there.) I was pretty good at saving money that I earned from babysitting and summer camps. I went to Europe on my saved pennies and bought my fancy ankle zip-up Guess jeans that had just arrived from Paris back in 1982.
Being a mother of 7, I have not done as well saving my pennies. Budgeting seems to be the bane of my existence. But I'm determined.–DETERMINED!–to do better.
This year I am going to create a new family budget with Lane and make more of an effort to live within my portion of that budget than I have in the past.
Three ways I will try to do this are:
Review my budget, enter receipts, pay bills, etc. weekly;
Report on my efforts in our executive council and family council;
Seek for ways to minimize what I spend while maximizing the value of what I spend;
Pray for help.
I have been really good at justifying my purchases whether or not I can really afford them. This year, I want to use more self-control by stopping spending when I do not have money to spend. I am going to try to report more frequently to my family as part of my effort to be more transparent financially. It's not like I was trying to hide my spending necessarily; it's just that I wasn't tracking well enough to be able to provide a report. Inasmuch as I believe family is the first business, I want to run my finances as if it were a money-making venture and I had to report to a board that had invested in me.
Yikes! 😬  I can do this.
Posts on my efforts to accomplish this:
Sharing the gas cost
Saving donation receipts
Saving money on music in 2017 (I decided not to buy any new songs or albums from iTunes this year, but to increase my donation to the local classical radio station. You can download their free app and listen to their music stream anytime, anywhere!)