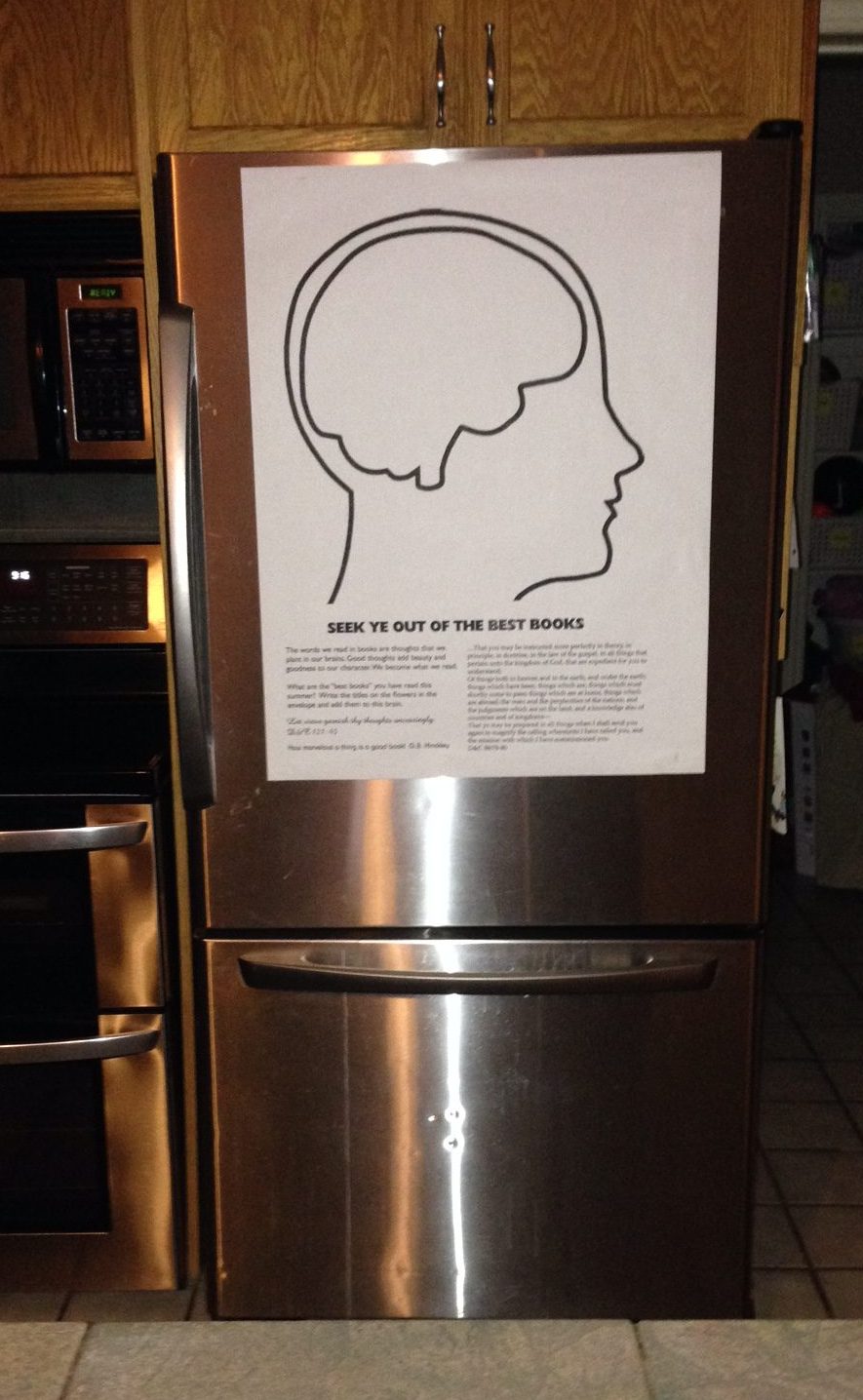 I created this poster for the summer of 2015 when we focused on selecting good books with great ideas that we wanted to plant in our brains. I drew little flowers that they taped in the brain and wrote the name of the book under when they finished a book they would recommend. (I posted about it last May.)
Now our printed library is exceding our shelf space. We are moving towards digital literature. For Christmas, our four youngest children received Kindles. This is a very big deal for our family, as we have not historically given digital devices to a child. Our children don't get cell phones until they are at least in junior high, and they don't get smart phones typically until we feel they are ready, which youngest age for that has been 15, but typically is around 16 or older. And computers? You have to earn your own money to get your own laptop, which for our oldest 3 children has been their senior year of high school or right before college.
We bought the Kindles because we: felt that it was the right time; got them for a very good price; and we were told that we can regulate them as parents. Our concern over regulation is valid: we know the dangers of giving a child an unregulated device. We strongly believe that home needs to be a safe place in every aspect, including what comes here digitally. So this year my goal is to get to know these devices better and learn how to help our children access them in ways that will amplify their goals and help provide positive educational tools.
So my goal is to:
Get to know the Kindles and how to regulate them to provide a safe learning environment for our family;
Select one great book each month to add to our Kindle library;
Oversee the children finding apps/music/literature that coincide with their personal goals and our family values;
Help them turn in their phones and Kindles to us at least 30 minutes before bedtime each night;
Carry out consequences for misuse of devices;
Read the Book of Mormon in French cover to cover and begin making a recording and posting it online.
Here are 2017 blog posts related to this goal:
Primium non nocere, butter, and honey
View from the toilet: Ask/Demandez/Frag/Kysy