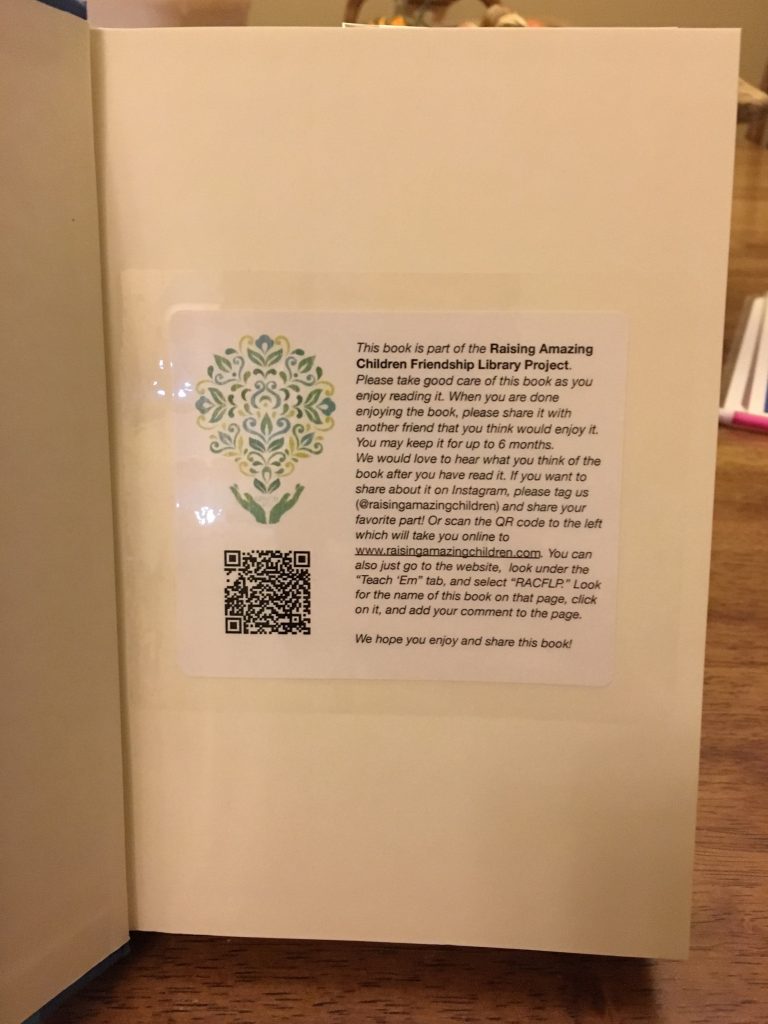 Welcome to the Raising Amazing Children Friendship Library Project!
On July 2, 2017, I decided to create the Frienship Library Project ("RACFLP") in hopes of sharing books that I and our family has loved so well over the years. Today, November 8, 2018, I shared our first books!
Here is how the project works
I share a book with a sticker inside that explains the project.
This sticker invites the reader to read the book, find the coinciding page on my blog, and share a comment about it on that page. Then they need to pass the book along within a reasonable amount of time to someone else who would like to read that book!
Here are the books that are currently in circulation in this project:
The Birth Partner: A Complete Guide to Childbirth for Dads, Partners, Doulas, and Other Labor Companions by Penny Simkin (11/18)
The Boys in the Boat: The True Story of an American Team's Epic Journey to Win Gold at the 1936 Olympics by Daniel James Brown; adapted for young readers by Gregory Mone ()
Just Mercy: A True Story of the Fight for Justice (Adapted for Young Adults) by Bryan Stevenson
Over and Over by Charlotte Zolotow (11/18)
Silent Souls Weeping: Depression–Sharing Stories, Finding Hope by Jane Clayson Johnson (6/19)
Without the Mask: Coming Out and Coming Into God's Light by Charlie Bird (9/20)
If you have received a book that isn't listed here, go to my Index here. Sometimes there is some lag time between when I give away a book on post about it on Instagram and list it here. If it isn't listed here or in my index, feel free to email me, and I will create a page for it stat!