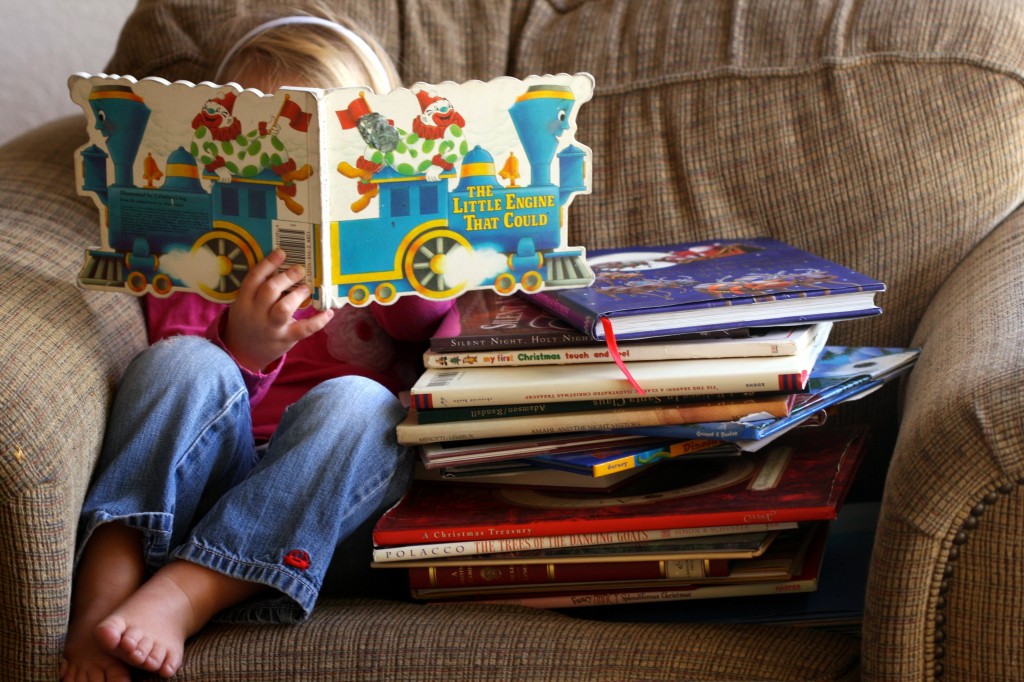 (My niece, Jane, could recommend some good reads. Photo by my amazing photographer sister, Becca.)
Here is a list of children's picture books recommended or reviewed on my website:
(For books that I recommended on my sidebar, go to this page. Be sure to check out the HOLIDAY BOOKS page for picture books listed there.)
CHILDREN'S PICTURE BOOKS
A Birthday for Frances (series) by Russell Hoban
A Mango in the Hand by Antonio Sacre (This book is a bilingual book. Spanish/English)
Abuela by Arthur Dorros (This book is a bilingual book. Spanish/English)
America's Champion Swimmer: Gertrude Ederle by David A. Adler
Balderdash! John Newbery and the Boisterous Birth of Children's Books by Michelle Markel
The Boy Who Loved Math: The Improbable Life of Paul Erdös by Deborah Heiligman (illustrated by LeUyen Pham)
Fanny's Dream by Caralyn Buehner
Five Minutes' Peace by Jill Murphy
Girls Who Chose God by McArthur Krishna (illustrated by Kathleen Peterson)
Go Away, Dog by Joan L. Nodset (I grew up on the old version illustrated by Crosby Bonsall)
The Fantastic Undersea Life of Jacques Cousteau by Dan Yaccarino
Fun with Serbian Letters by Irena Deletić Chia, illustrated by Aleksandar Zolotić
The Giving Tree by Shel Silverstein
Hana Hashimoto, Sixth Violin by Chieri Uegaki, illustrated by Qin Leng
He Took My Lickin' for Me by Timothy Robinson
Hot Air: The (Mostly) True Story of the First Hot-Air Balloon Ride by Marjorie Priceman
Hot Diggity Dog by Adrienne Sylver
How to Eat an Apple Pie and See the World by Marjorie Priceman
Ice Cream Cones for Sale! by Elaine Greenstein
I'll Love You Forever by Robert Munsch
It Could Always Be Worse by Margot Zemach
Jillee Bean and the One Good Thing by JIll Nystul and Samantha Hollister
The Keeping Quilt by Patricia Polacco
The Lemon Drop Jar by Christine Widman
Love Adds the Chocolate by Linda Andersen
Miss Rumphius by Barbara Cooney
The Oak Inside the Acorn by Max Lucado
Once There Was a Mom by Emily Watt, illustrated by Destin Cox
One Little Match by Thomas S. Monson
A Picture Book of Benjamin Franklin by David Adler
The Quilteramker's Gift by Jeff Brumbeau, illustrated by Gail de Marcken
Rattlebang Picnic by Margaret Mahy
The Seven Silly Eaters by Mary Ann Hoberman
Scripture Stories published by the Church of Jesus Christ of Latter-Day Saints (our children's reading primers)
Somebody Loves You, Mr. Hatch by Eileen Spinelli, illustrated by Paul Yalowitz
Tacky the Penguin by Helen Lester, illustrated by Lynn Munsigner
The Tale of Meshka the Kvetch by Carol Chapman
Thankful by Eileen Spinelli, Illustrated by Archie Preston
Too Many Mangos: A Story about Sharing by Tammy Paikai, illustrated by Don Robinson
The Velveteen Rabbit by Margery Williams
The Wizard of Oz by Frank L. Baum, illustrated by   (an abridgment of the classic)
For my elementary school read-aloud lists by month, go here.