A few songs I've written
I am not a professional musician. But my mom was, and she's written quite a few songs. I knew when we needed some songs for our elementary school, that I should just give it a go, because that's what she's taught me. She raised me to be creative. And to ask God for help. And also fortunately for me, I have some really kind friends who are who have helped me create the music, filling in with skills that I lacked or make an idea I had better with their talents.
I need a place to post this music for others to access, so I'm going to post it here today.
I've had some pretty fun and cool experiences writing lyrics and melodies. Writing the school song was what got me started. In preparation for going on a youth trek, I attended a church fireside in which a sister in our stake shared a song she had written for the youth just for this trek. The thought occurred to me that we could use a school song at our elementary school. I looked into it and no one at the school could find a school song. So, since were going to start a music program, I decided to give the project a go. I gathered information about the school's motto and mission statement and started praying for ideas. This was May 2010.
I didn't have much time to work on it, because being a mom in summer time is busy and I had a calling to go on trek with our stake youth. I went as a technology person (I blogged about the trek for parents back home–how fun is that!). It was a great experience: walking around in freezing temperatures during microburst storms. I'm not being sarcastic! I was a great experience walking in the footsteps of Mormon handcart pioneers who suffered so much on their trek across the states. (We were in Wyoming at Martin's Cove.)
The night we got back, I slept well and woke up early with a tune in my head and some lyrics in my mind. I started to jot them down on a piece of paper and then went to the piano to figure out the tune. I took the tune and lyrics to my friend in our stake who had written a song for our youth trek. I asked her if she would be willing to help me with the song and write some accompaniment. She said she would, and she did! She is SO talented and a delight to work with! We had a good time working together. I took the final product in August (I think!) to our principal who reviewed and approved it. Ever since then, it's been a delight to hear the children singing this first creative musical endeavor.
…Which just reminds me that you can pretty much do anything with God's help!
"Foothill School Song"
Foothill School Song Accompaniment.mus
Below is a simplified arrangement of the accompaniment: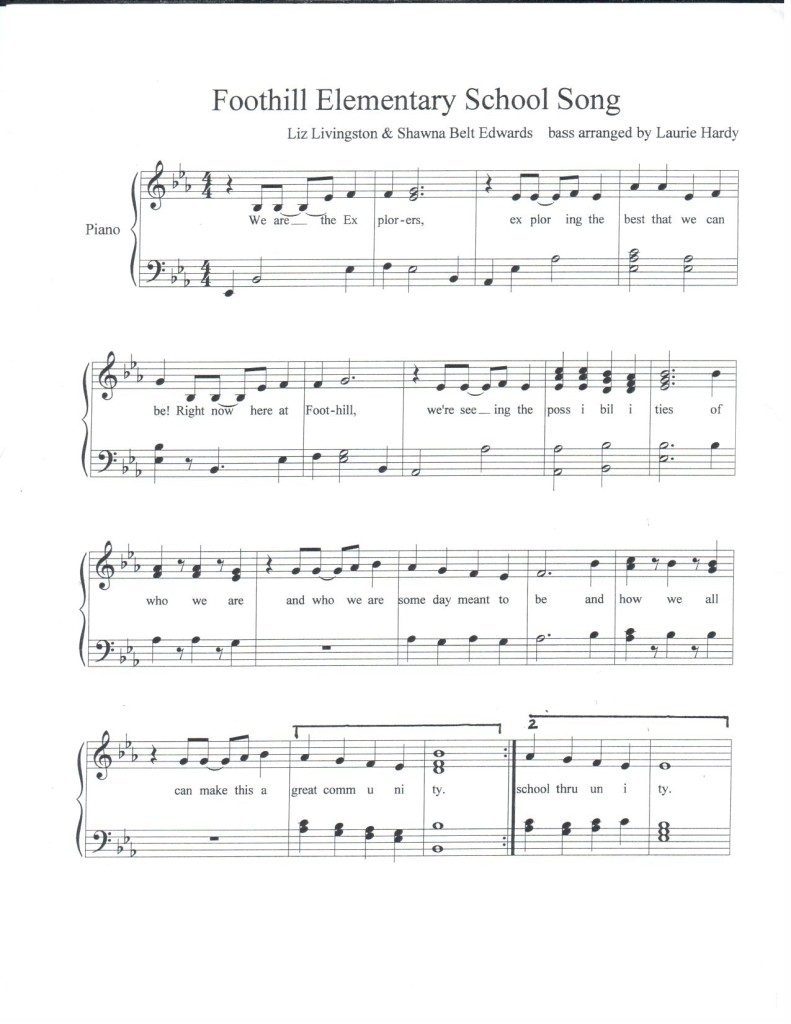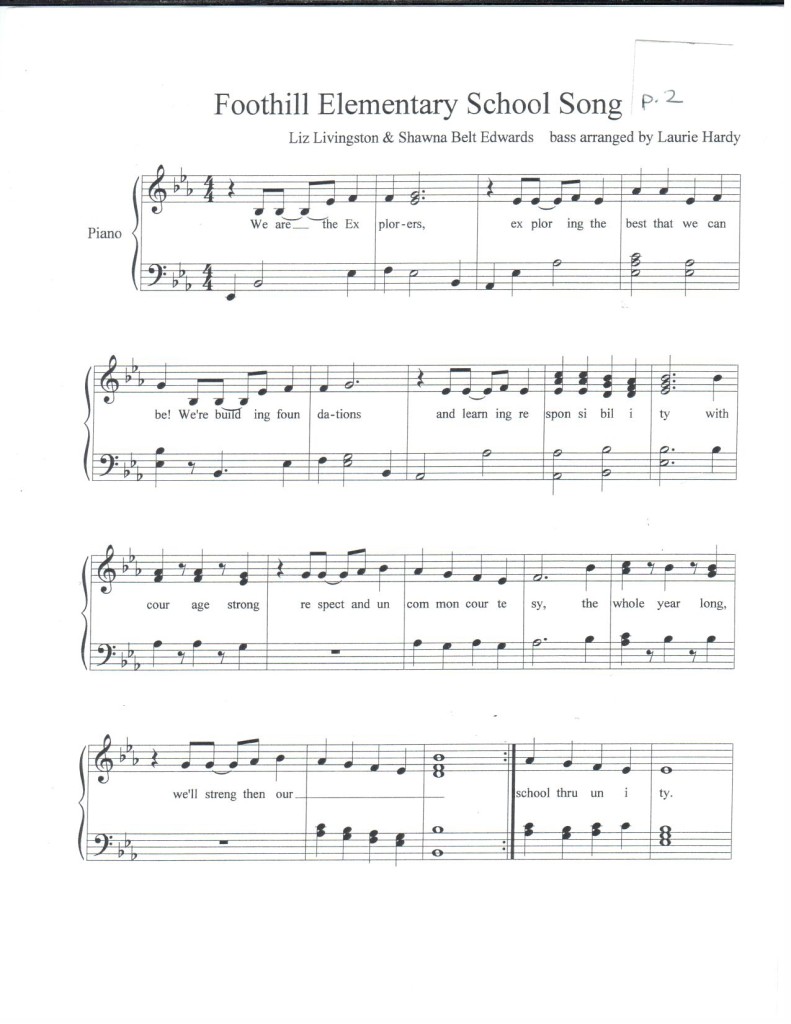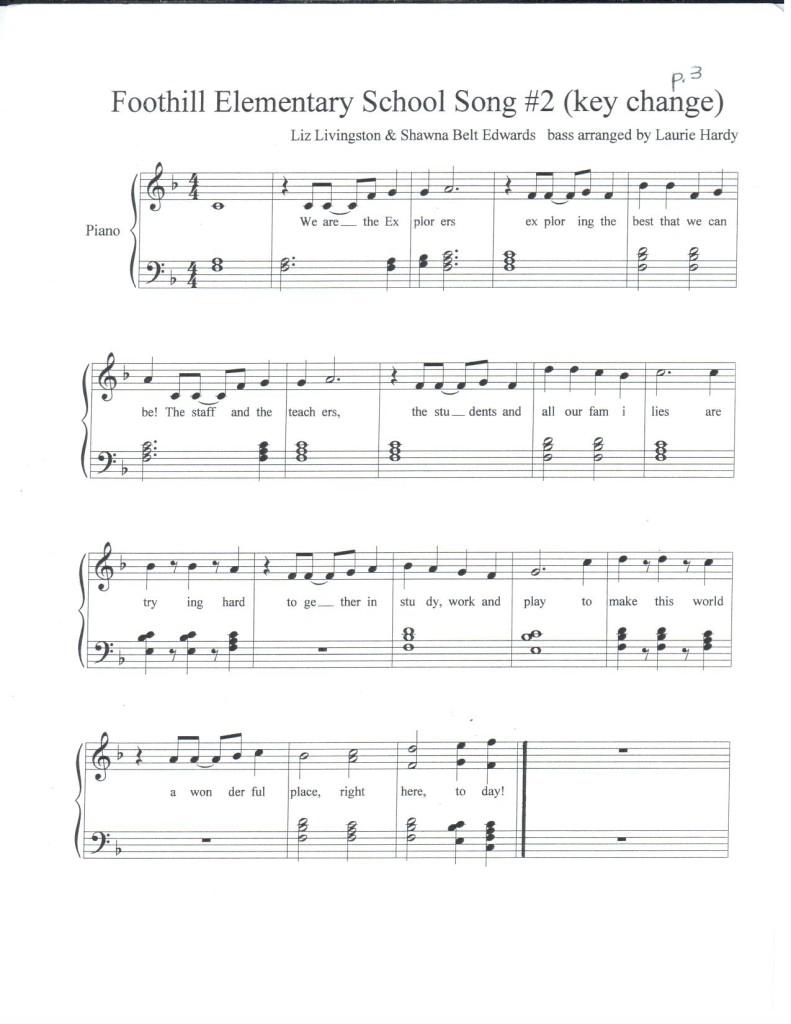 (I need to find the rest of the files to this.)
As we continued to have school choirs, I thought it would be nice to have some free music for children's school choirs to be able to use. So I worked on two more songs (in two successive years) for the spring concert–songs that went along with the school themes for those years. I was particularly grateful for my mom's help (she's a real composer) with the "Gold Inside of You" song and my friend Tanya Barkdull, a professional singer, who was helping with choir that year as well. Together we wrote the lyrics and music.
"You've Got Gold Inside of You"
(I need to find the rest of the music.)
When I was working on the Legacy song, I asked a friend from my mission (I had done some musical firesides on my mission) who composes music and helps with the Mormon Tabernacle Choir if he could help me out with the music–making some orchestral parts and accompaniment and digitizing it all! (Ha! Talk about friends who generously serve their communities!) He did it for us in about a week's time. So then we had a song for our choir and orchestra to perform together.
"We're Building a Musical Legacy"
We're Building a Musical Legacy (C Score)
We're Building a Musical Legacy (SSA)
We're Building a Musical Legacy (VIOLIN 1)
We're Building a Musical Legacy (VIOLIN 2)
We're Building a Musical Legacy (VIOLA)
I guess we didn't do a cello part because we didn't have any cellos that year? Not sure! Guess I need to work on that one…
There are two little songs that I put together for my Delicious Music kindergarten curriculum. One is the them song. The lyrics were another early morning writing ideas down experience. The tune that was in my head was the Christmas carol "Fum, Fum, Fum."
"Yum, Yum, Yum" (Delicious Music Theme Song)
(I need to find the rest of the music.)
"My Grandma Has a Green Thumb"
(I need to find the rest of the music.)
"Lullaby for a Wakeful Mother"
LFAWM sheet music p.2
LFAWM sheet music p.3
I have some work to do to complete this post! But I need to post it so I can access it. 🙂
---
---