A great book for boys? Big Red gets a big thumbs up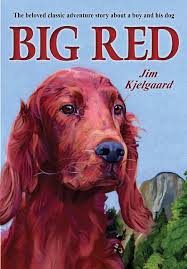 I just finished reading Big Red, and what a lovely feeling of satisfaction I have from this story. (It sure took me a long time! I thought in July that I'd be able to cruise through several books–and my family, too–but we've been as busy as in June. Summer seems to have a mind of its own, as it were. I am simply along for the ride.)
This book is a treasure: full of character development, down-to-earth wisdom, and spirited adventure.
Danny is a 17-year old young man living in a cabin in the Wintapi–apparently a wilderness area of Canada–where his widower father and he hunt for "varmints."
But that all changes when Danny gets to care for Red, the rich land-owner Mr. Haggin's show dog.
Together Danny and Red face the challenges of training, hunting, and facing off dangerous opponents, such as a wolverine ("Injun devil") and "Old Majesty"–the bear that has terrified the locals for years.
This book has the same spirit as Where the Red Fern Grows. If you love dogs and adventure, you will probably love Big Red. While I recommend it as a book for boys, I know girls or families together would enjoy it. (I am, after all, a girl!)
---
---