March Family Book Club
Last month was kind of crazy at our home, so we didn't have book club. I didn't even finish ready Something Beautiful for God, but we want to read it, so we decided to keep it for March as our older read.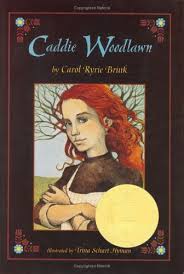 Peter and Anna and I each read Caddie Woodlawn, which is now one of my all-time favorite children's chapter books! I actually listened to it, and have listened to it perhaps four times! I listen to it on my Audible app at night when I wake up and can't go back to sleep. (Thank goodness that there is a sleep timer, and I am familiar enough with the story and enjoy it well enough that I sometimes can be back to sleep under 8 minutes–the first sleep timer setting! Lol.)
Caddie Woodlawn is the story of a young tomboy growing up carefree and happy on the Wisconsin frontier with her large family during the Civil War era. The story is based on the life of the author's grandmother, which is probably what makes it as wonderful (and even more delightful at times!) as Little House on the Prairie, which series I adore.
One of my favorite quotes from Caddie is when her father is talking to her about what he and her mother hope she will understand about women:
It is the sisters and wives and mothers, you know, Caddie, who keep the world sweet and beautiful. What a rough world it would be if there were only men and boys in it, doing things in their rough way! A woman's task is to teach them gentleness and couresy and love and kindness. It's a big task, too, Caddie–harder than cutting trees or building mills or dammin grivers. It takes nerve and courage and patience, but good women have those things. They have them just as much as the men who builds bridges and carve roads through the wilderness. A woman's work is something fine and noble to grow up to, and it is just as important as a man's. But no man could ever do it so well. I don't want you to be the silly, affected person with fine clothes and manner whom folks sometimes call a lady. No, that is not what I want fo you, my little girl. I want you to be a woman with a wise and understanding heart, healthy in body and honest in mind." (p.244)
There is sweetness and goodness and hilarity and delightful romp in this story. And it has one of the best Valentine stories (and example of pure sacrifice) in it ever! (See chapter  14, "A Dollar's Worth).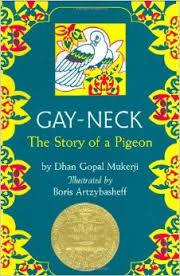 Since the children and I finished the younger book in February, we were reading for a new read. I chose this old book from India.
Gay-Neck:The Story of a Pigeon is a truly odd-sounding title, and the plot seems stranger still: the story of a pigeon. I wondered what could be so interesting in it to have won a Newberry award!
We had no idea how intriguing and beautiful this adventurous tale could be! We have only been reading it aloud together (me, Peter, and Anna) this week, and already we look forward to every evening. It is such lovely prose! Tonight we read a hair-raising tale of a the pigeon's owner and two fellow travelers who spent a night in a banyan tree in India, complete with death-defying moments and dangerous beasts. Here's just a little sample:
When they had gone the frogs croaked, insects buzzed continually and owls hooted. Noise, like a diamond, opened its million facets. Sounds leaped at one's hearling like the dart of sunlight into unprotected eyes. A boar passed, cracing and breaking all before him. Soon the frogs stopped croaking, and way down on the floor of the jungle we heard the tall grass and other undergrowth rise like a haycock, then with a sigh fall back. That soft sinister sigh like the curling up of spindrift drew nearer and near, then. . . it slowly passed our tree. Oh, what a relief! It was a constrictor going to the water-hole. We stayed on our tree-top as still as its bark–Ghond [their leader] was afraid that our breathing might betray our position to the terrible python. (p.62)
This is NOT just a story about a boy who loves training his pigeon. "Holy Moly," as one of my children would say. It is SO much more! (You should read about the eaglets leaving their eyrie for the first time, and the wild, rampaging elephant ripping limbs off the banyan tree right where they sat!)
Both Caddie Woodlawn and Gay-Neck are Newberry Award winners.
---
---