Mr. Lemoncello's Library warning and our April/May family book club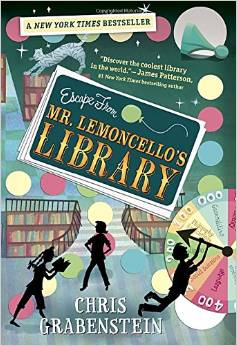 Anna and I have been reading Escape from Mr. Lemoncello's Library. I just wanted to mention that while it seems the plot has caught our attention, we have both been dismayed by the "junk words" that we've already omitted or subbed in a few alternate words while reading aloud–you know, the kind of thing that doesn't ever really need to be included in a story, like coarse slang that references bodily functions. These terms seem to be included in every Disney movie these days and every modern children's chapter book. Ugh. Anna doesn't like it and neither do I.  So we are continuing to read for now, unless it gets worse and we decide we want to spend our time in another book that is more edifying.
So I'm raising the warning flag for those who want to totally avoid that kind of stuff, since I have it on the side bar for our Family Book Club for this month and next.
I'm also switching the older read to Multipliers. I want my children to read the Smart Money, Smart Kids book this summer, but Lane's work is so busy that I figured he would appreciate a read that he could read in tandem with his efforts on the frontlines.
---
---