My Father's Dragon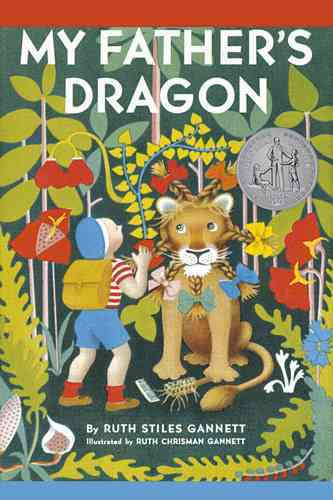 Yesterday I was drinking some cranberry juice (Straight! UNSWEETENED! Yowza! Talk about TART!), and I thought about cranberry, which reminded me of one of our family's favorite books, My Father's Dragon. 
If I could, I would recommend this book to every family with a young boy who is learning to read. This isn't to say that all of my daughters haven't loved the book–all of us Livingston women do!–but I think it's particularly fun to have a great book where a boy is the main character, and a smart one at that! Elmer Elevator, the good, smart, clever, and kind protagonist in this story, leaves home to rescue a dragon (Boris) who is being held in captivity. His success depends upon what he brings from home and how wisely he uses his resources, along with the help of a talking cat.
I bet I have read this book at least four times aloud, maybe more. I've also read the second and third books in the trilogy (Elmer and the Dragon, The Dragons of Blueland) and have enjoyed them every time. I haven't met a child who didn't like this tale! It's a great way to move from just learning to read chapter very easy books into a slightly more challenging one that really captures the imagination.
AND there are darling illustrations. (I'd like to make a Dragons of Blueland map quilt someday.)
---
---