RWM: A Lantern in Her Hand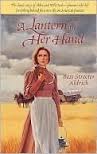 Two weeks ago I was telling Lane about spending the day at home with Nate on his first day home after his job ended. With the encroaching reality of Nate being gone for two years, I was trying to describe the feelings I had in my heart. Then I remembered a woman who has already done so. I went to my bookshelves and pulled out one of my all-time favorite novels: A Lantern in Her Hand  by Bess Street Aldrich, and read him this excerpt:
(Background: Abbie Deal, a fictitious pioneer woman who settled with her husband in Nebraska, paints the scene of her daughter, Margaret, leaving the family farm to go away for school.)
" 'You're sure you'll get along, Mother?'
" 'Why, of course I'll get along, ' Abbie was outwardly calm and confident, while all the time there was that queer sensation of a wind rushing by, –a wind she could not stop,–Time going by which she could not say. Oh, stop the clock hands! Stop Time for a minute until she could thick whether it was right for Margaret to go away and leave her.
"Good-by dear!' Oh, stop the clock hands!
"Will [her husband] was calling. 'Trunk's in. All ready in there?' Stop Time for a while,–until she could think!
" 'Oh, Mother, do you think I ought to go?'
" 'Of course you ought to go.' Head up, Abbie was smiling.
" 'Good-by, then…!'
"They were down the lane road now, past the Lombardy poplars. Now they turned east onto the main road. Margaret was dividing her handkerchief between her eyes and waving. Abbie waved and smiled,–waved and smiled,–as long as they were in sight. Then she turned and ran blindly into her bedroom and shut the door. And, whether she has driven away in a lumber-wagon or a limousine, the mother whose daughter has left her for the first time, will understand why Abbie Deal ran blindly into her bedroom and shut the door" (pp.121-122).
Wanting to freeze time so you can have more time with a child? Being brave for a child and encouraging them to leave? I can relate! In that one moment, we learn so much about why being a mother and a nurturer of children is so rewarding: because our lives intertwine with that child. We love them so much because we have served them so much! We have given our best so that they can figuratively stand on our shoulders and see further, do more, be better. And when they look back, they can see us figuratively holding up a lantern of light to reassure them that they will be OK, that God will be there, that we believe in them.
But in order for them to do so, they have to leave. We know it. And so we send them off…
Like Gift from the Sea, you can read A Lantern in Her Hand over and over at different stages in your life and, as a woman, love it all the more because you bring more experience and understanding to the story each time. If you are a mother and you haven't read it, I heartily recommend it.
Happy Holding Up Your Lantern,
Liz 🙂
P.S. Guess what I found on the web when looking for a photo of the book cover?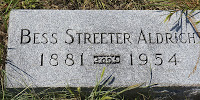 The author's headstone, found in PERU, Nebraska! What a delightful find!
---
---