RWM: Are families "Cheaper by the Dozen?"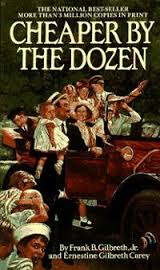 This month we are only reading one book, both olders and youngers: Cheaper by the Dozen by Frank B. Gilbreth, Jr., and Ernestine Gilbreth Carey. (The authors were two of the 12 children in this famous family.)
If you have never read this story, you are in for a treat. It is very fun. You will laugh and be awed. You may even cry.
Lane and I read this book on our honeymoon, since we were hoping for a tribe of 12 of our own. Now it's time for us to share this great biography with our children.
And, just FYI: If you have seen the modern version movie by this same title, you have not given it a fair shake. You have to at least get the original version of the movie and enjoy it. It's much truer to the actual story, and much more fun (in my opinion).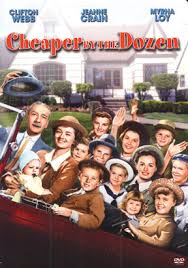 Are families cheaper by the dozen? I would say that for sure bigger families are cheaper per child in the long run, even if it costs more all together. But I am pretty sure that Heaven has helped us with providing for each child at every step of the way. If you are willing to have your children wear hand-me-downs and manage your resources well, I am quite sure that you can raise a larger family on the same amount that many families raise only a few children.
Happy Reading (Rearing?) and Calculating,
Liz 🙂
P.S. Just a flag about the book: there is some language (the father had quite a personality and some "colorful" language to go with it), so this makes a great read aloud that can be easily edited by the reader! 🙂
---
---