RWM: Choosing Motherhood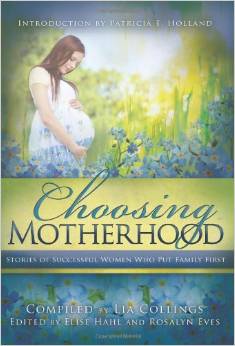 Already! Another book to add to my stack for this year. I'm going to have to put a cap on this stack pretty soon so I can read  some of these great, serendipitous titles that call out to me!
I was just reading 1 Nephi 3:7, how God doesn't give us any commandments that he doesn't first prepare a way for us to be able to keep.
I LOVE how God models how to be a parent. This simple truth that Nephi spoke is a pattern for nurturing in so many ways! First, we wouldn't want to undertake something that is impossible for one of our children to do, at least with help. But there are many things we can choose with our children to do if we are willing to work to help them.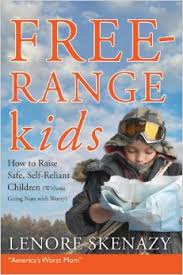 Last night, at a parenting book club of which I'm a part, we discussed Free-Range Kids: How to Raise Safe, Self-Reliant Children without Going Nuts with Worry by Lenore Skenazy. In this book Skenazy addresses what is called "helicopter parenting"–a negative connotation for parents that "hover" over their children, not allowing them any room to do for themselves or make mistakes. I would say that Heavenly Father is an amazing combination of a parent who knows far more than any earthly parent ever will about his children and is far more involved than we could ever be: He knows our thoughts, our feelings, our physiological state, our past, our present, our future, our talents, our potential, or weaknesses–everything! And he can be with us at any moment if we are not purposefully going against His will. He even gives us the very  breath we are using at this very moment!
Talk about life support!
But on the other hand, He teaches us good from evil and gives us agency (choice) and the tools to make wise choices. He gives us a TON of latitude with this agency. We see evidence of agency every day, on the news, in our conversations, in our social media, as we share the good and ill we observe happening by people's constant choices.
SO.
What I love about being a mother who is armed with the knowledge of the gospel of Jesus Christ, is that we can try to be like God: we teach our children, and then we give them assignments, and then we assist them in those assignments the best we can. "Best" to me means that we allow them to do as much as they should do in order to effectively learn the skill, as difficult as that might be for the child. I love the definition of "spoiling a child" that I heard from my friend Carol J.: You only spoil a child when you do for them what they can do for themselves.
When I think of all the really, really challenging young mother days I had slogging through sleep-deprivation and common illness and patience-stretching toddler behaviors and faith about being financially solvent someday, I think that God did not swoop down and remove those challenges from me. He let me struggle. Often. But He was always there if I wanted to talk. He was always there with opportunities for me to learn to look beyond myself and discover happiness in golden moments and choice relationships. He blessed me with people who loved me and encouraged me. He provided food, clothing, shelter, love, fun, learning, adventure and laughter. He made it possible for me to go from one day to the next.
As an adult, I recognize that I'm a partner with God who has all this agency and gets to learn as I try to support my children. It is SUCH a great opportunity! Just this morning I was leading a little beginner orchestra, and the children had learned the 4 measures I assigned the week before. We played, on our first "official" day, the first 4 measures all together! And it sounded GOOD! I'm serious! It tasted so sweet! And it was so fun to share that taste with the children! When we get to invite children to work, to try, to figure something out, and then we support them in the ways that they can't do (like getting them to school with an instrument, providing chairs and stands and sheet music and a smiling face to practice with them), then they can achieve what they otherwise couldn't. And we get to be a part of it. We get to learn to be like God.
SO awesome!
So much for my break. I better get back to that.
(Ha! I really do need to learn more discipline.)
Happy Choosing Motherhood and Tasting the Joys of Nurturing Others,
Liz 🙂
---
---