Christmas children's book picks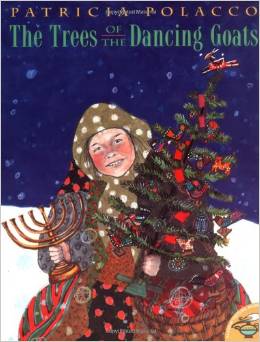 We have an entire shelf in our home library for Christmas books. Picking just a few to highlight is hard! Too many that I love! So I just pulled some that are at the top of my list.
The Trees of the Dancing Goats by Patricia Polacco is not officially our family book club younger read for this month. (Our family book club younger read would be the whole shelf, basically. That's what they do in December. They get the books out and read them on the couch in front of the fire. And then they leave them on the couch and floor for me to put back. Kind of their tradition. I like the reading part. Not the cleaning up part. LOL.)
This is such a loving story, that I still tear up when I read it. If you can get the audio version of Patricia reading the book, you will love it. (I especially love how she does her grandmother's accent.) Trees is a tender tale of a Jewish family who serves a Christian family who is sick with scarlet fever. It is a perfect (and true!) Christmas tale about sacrifice and true neighborly love.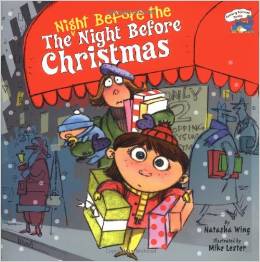 The Night Before the Night Before Christmas by Natasha Wing tells the (could be true) story of a typical American family who is experiencing the stress of the season. Our dear friends the Mosbargers gave it to us for Christmas in 2003. I think Gloria knew I could identify with the mother. Because I was sick and overdone yesterday, Julia came in and saw me and asked how I was doing. She then quoted this book. She and Eliza walked in the door and sent me to my bed to take a nap, saying that they would finish the work I was doing. And they did. I felt extremely loved and nurtured. This book will make you laugh out loud. And it might inspire your children to tuck you in bed one day, too.

Christmas in Exeter Street by Diana Hendry was given to me last year by one of Sarah's best friends, Taylor. We've known Taylor since she was little. (OK, to be fair, she and I may never outgrow that description, right, Tay? So good to have someone I can look in the eye.) She comes from Australia and has a delightful accent, and this is one of her favorite books. She said it reminds us of our home, which was the nicest compliment ever! This funny story tells about a family and home who welcome all kinds of friends, relatives, and strangers to spend Christmas Eve (and the night!) with them. Folks sleep on the sofa, in the sink, on the window sill, on the fireplace mantle, and on the china hutch shelves. It is DARLING. It is hard to get, and I appreciate the work that Taylor's mom went to on both of our behalf to find this book! We love it!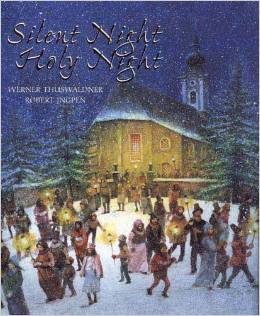 Silent Night Holy Night by Werner Thuswaldner (illustrated by Robert Ingpen) is the beautifully illustrated of the history of the Christmas hymn, "Silent Night" (Stille Nacht). Ooh, I love these illustrations. They make me feel like I am back in Germany. The story of this hymn is one that all singers should know, because it was a gift to the world during a time of great difficulty. I love how God does that. He always has special gifts to give his children in the midst of adversity. I love how music is a special gift that He shares with us in a way that so many of his children can enjoy the gift. You will want to include this important story in the ones you share with the children you read to.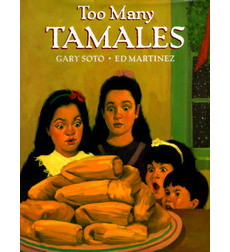 Too Many Tamales by Gary Soto (illustrated by Ed Martinez). I have reviewed this book before and surely will again. It is a classic tale of a child's curiosity coupled with innocent misfortune. It's a tale of honesty and repentance and wonderful humor. If you love children, you will love this story! And you will have to eat a tamale at Christmas to really enjoy it, too. (I have a friend who makes wonderful tamales! Conchita, thank you for sharing your tamales and friendship with me.)
Happy Reading,
Liz 🙂
---
---