Gratitude, Yiddish-style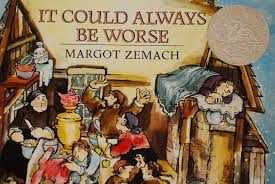 It Could Always Be Worse by Margot Zemach.
Sometimes it takes having things added to your life until it's overflowing (when it already feels full) to be reminded how good things really are with the status quo.
Or even just reading about someone else's life that is overflowing with challenges.
I still am learning how to handle the stress I feel (or imagine? Is that what happens? Do we invent stress when really things are just fine?) and find it easy to get bogged down in my own trials. Then I read about someone else's life–like this family I read about yesterday, who has 8 children and the parents both are dealing with cancer (!)–and I gain some more appreciation of how things could be worse.
That's the great lesson in this delightful story, It Could Always Be Worse by Margot Zemach. I've come to love the wisdom in the few Yiddish books we have! This is one to keep handy when self-pity starts creeping in, which it seems to do all too often. I wonder when I'll conquer that one!
Maybe it would just take a goat or 2 in the house….
Happy Reading,
Liz 🙂
---
---