RWM: How to read Crime and Punishment (in a few days)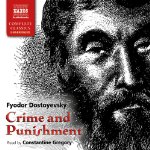 We figured out how to do those summer reading assignments for AP English Lit (i.e. Crime and Punishment and Their Eyes Were Watching God).
1. Get a copy of the mp3 recording of the book.
2. Get a printed (or digital) copy of the book.
3. Put the recording to play at 2x or 3x the regular speed. (Laugh a lot to hear the drama that fast.)
4. Follow along in the book and finish in a VERY reduced amount of time.
5. Celebrate that you finished Dostoevsky during summer vacation in only 3 days…by starting the next book on the list!
Seriously, if I had known about this in high school and college, WOW! Would that have helped! I am such a slow reader! I really like to think about what I read. But when you have to read to get through something in a specific period of time, this way is AWESOME.
Happy Listening and Reading,
Liz 🙂
---
---