I Am Thankful Because…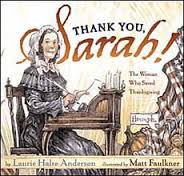 Do you know how Thanksgiving came to be?
I'm not talking pilgrims and indians.
I mean how the holiday (that we have in the United States) came about?
We owe it all to one mother, Sarah Hale, who persevered using the power of the pen through several presidents of the United States to bring us this holiday.
I am grateful. And I'm grateful to get to pass on this great history lesson every time I read this book to a group of children, including my own.
Happy Gratitude month,
Liz 🙂
P.S. Thank you Laurie Halse Anderson and Matt Faulkner for bringing us this story so delightfully!
---
---