Ideas for what you could read aloud to a first grade class (September)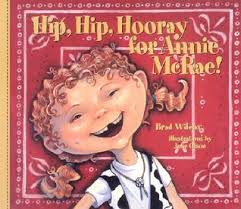 A dear friend recently asked me for some suggestions of what to read aloud to her daughter's first grade class. When I read in the classroom, I enjoy choosing books that are related to nature/the seasons,  history, holidays, the children's stage and age, "musical" books, character-building books, art-related books, and books that are simply fun!
Here are some that I might read in September:
It's the First Day of School!  by Charles M. Schulz
The Day Jimmy's Boa Ate the Wash by Trinka Hakes Noble
Hip, Hip, Hooray for Annie McRae! by Brad Wilcox
Look What I Did with a Leaf!  by Morteza E. Sohi
How to Make an Apple Pie and See the World  by Marjorie Priceman
The Little Mouse, the Red Ripe Strawberry, and the Big Hungry Bear by Don and Audrey Wood
How Do Apples Grow? by Betsy Maestro
Why Do Leaves Change Color? by Betsy Maestro
The Relatives Came by Cynthia Rylant
Blueberries for Sal by Robert McCloskey
Flicka, Ricka, Dicka and the Strawberries by Maj Lindman
Go In and Out the Window: An Illustrated Songbook for Children from the Metropolitan Museum of Art (ed. by Fox and commentary by Marks)
The Ox-Cart Man by Donald Hall
Spuds by Karen Hesse
Quick as a Cricket by Audrey Wood
And you know, if you are going to read a book to a child, you'd better make it worth their while! I learned from my parents that using voice inflection, some added drama (such as different voicing for different people), and even laughing or snoring on cue makes it so much more fun. (My dad was the best at making children laugh whenever he read The Laughin' Place, and he had the best voice for Brer Rabbit and Brer Bear. I think I learned voicing from him. He is the champion children's book reader!)
The great thing about reading to children is they don't care if you make mistakes or if you do the accent wrong. If you are having fun, they will have fun with you. Which means it's fun for everyone!
Then you can ask them questions and let them contribute, too, so they don't just have to sit there the whole time being perfectly quiet, which is what they have to do so much of their school day. I do demand respect, but I try to ask a question here and there to keep things interesting and let them share the experience a little more.
You are one lucky adult who gets to read to a group of children!
Happy Reading,
Liz 🙂
P.S. And heavens! This list is surely by no means exclusive. There are so many great books to read to children! These are just some of the ones we have loved in our home.
---
---