RWM: Love, Ruby Lavender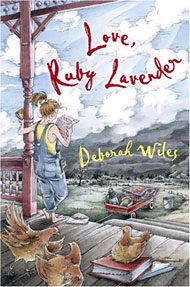 "Good garden of peas!"
I love reading aloud in my children's classes whenever I can! It has been a joy to do ever since I started back when Sarah was in Kindergarten? First grade? I can't even remember. Now I'm simply savoring every chance to go as my youngest is growing up through the elementary grades.
This week I went to read from Love, Ruby Lavender, the darling story of a young girl who lost her grandfather, adores her grandmother, and despises another young girl whose father died in the same accident as her grandfather. This charming, often funny, tale describes how enemies can become friends and includes how multi-generational relationships can strengthen individuals and families. (Children need a grandma who loves them!)
I love the letters between Ruby and her grandmother, Miss Eula.
I love Ruby's spunky personality, her temper (!),  and her funny expressions, including "Good garden of peas!"
You will love the opportunity to discuss with your readers how death of a loved one can affect children (and adults), how our behavior affects each other, and how families can be there for each other.
And I bet you'll love seeing the smiles and hearing the laughter of children as you read.
Happy Reading,
Liz 🙂
P.S. My friend texted me to ask for read-aloud recommendations for a first grade class. I'm working on that and will post it asap!
---
---