RWM: Making Time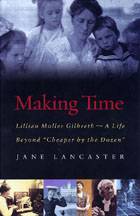 How do I use my minds and hands effectively to fulfill my mission on earth?
That's a question I've wondered throughout my adult life, especially as a mother, and yesterday, when I was looking for another book in the library stacks, I found this book. Biography is my favorite genre, and as Cheaper by the Dozen was the first book Lane and I read together as a married couple, it is fitting to say that the Gilbreth family has had an influence on the way I have thought about effective time use at home. Lillian Moller Gilbreth, whose biography this is, was the mother of the Gilbreth clan, so of course I had to check it out.
(My eyes are always bigger than my stomach when it comes to reading. I'm still reading President Monson's biography and haven't re-read Little House yet. And I picked up 2 "just for fun" books as well. Cockeyed optimistic! So little time, so many good books.)
So I sat in the car with my daughters yesterday, reading a little before leaving the library parking lot to go home. (I knew once we were home, the book would have to be closed and dinner preparations begun.)  I was eager to learn how this mother of 12 children, widow at age 46, carried on, stepping into her husband's shoes to finish his business.  How in the world did she do that? And in the 1920's. No microwaves, no large-capacity washing machines, no calendar app on a cell phone. That's what I'm eager to read about.
In the car I read something that I'd forgotten from our reading of Cheaper: that the Gilbreth children typically graduated early from high school early because their "father, Frank…believed that there was no need for his children to be held back by a school system geared to 'ordinary' children with ordinary parents" (p.12).  I shared that with my children this morning when I informed them that we'd changed the passwords on the computer, and that I'd blocked some of the websites on which we can watch TV shows, because there had been some abuse of the internet privilege. Recently they had been watching some stupid shows (note: in our home, we don't ever use that word to describe people, but on a few occasions, such as this one, we use it to judge media content) and had neglected to listen to counsel to use their time better. AND, I said after sharing that quote, THEY are not being raised in any normal home. WE have higher expectations for them, to use their time better than that.
They smiled. No surprises there.
So I look forward to learning how Lillian made time for the things required of her: not neglecting the individual child as she at once ran both a large household and a large engineering company in order to pay for 11 college tuitions.
Man.
Happy Reading (instead of watching stupid TV shows),
Liz 🙂
---
---