RWM: Miracles on Maple Hill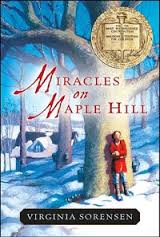 Just today I was thinking that one of the lessons I learned from getting quite sick nearly 7 years ago was that for mothers, there is only one person who is in charge of taking care of mother, when it boils down to it, and that is mother!
I learned that if there needs to be balance in my life–and I found out very quickly from getting sick that there has to be–that I have to work for it, because no one else is going to make it happen! If I a going to exercise, or sleep, or eat better, or know when to keep working or when to stop, it is going to have to be me who makes it happen. Others can help, but I'm going to have to choose health for myself.
So today when the rest of the family headed to the lake, I stayed home to take a nap and read. It's been an intense week, and even though I love being with my family, this quiet resting time was the most wonderful gift!
I finished reading a book I picked up at the BYU Bookstore this summer, and I was reading it to see if it was one I'd want to read aloud in Peter's class.
It is!
It's a gem!
It's called Miracles on Maple Hill by Virginia Soresen, and it's a grown-up version of one of our favorite picture books, Over and Over by Charlotte Zolotow.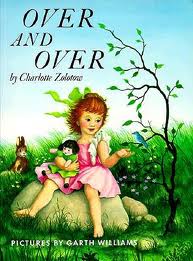 What Over and Over tells in pictures and phrases, Miracles on Maple Hill tells in chapters with simple yet compelling detail, in lovely storytelling fashion. I can't wait to read it to his class!
Miracles on Maple Hill is a Newbery Medal book (1957) (I hope that by the time I'm old, I'll be able to read all of the Newbery Medal books!) about a family who moves to the country to help their war-impacted, angry father to heal. The main character, Marly, tells about discovering the miracles that happen around and to them as they discover the beauties of nature and the rich friendship of their farming neighbors.
Reading this book reminded me of the glories of nature and the lessons learned from her, such as routines (seasons), and how fun it is to be able to look forward to the miracles that recur every year. ("…A miracle was better when you knew it was coming." p.184) It also reminded me of how people and change, and how love and service and reaching out to others makes a difference in every person's life. And I hope I can particularly remember from this story how a parent's mood can color a child's world.
What a nice way to spend a Saturday afternoon!
Happy Reading,
Liz 🙂
---
---