RWM: My Best Day So Far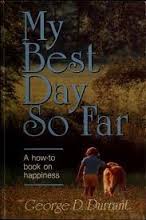 HAPPY NEW YEAR!
Years ago (we're talking like 1989), I took a missionary prep class from a former MTC president named George Durrant. What a game changer! I loved President Durrant! I don't remember exactly how I got this book, although it seems I bought it, but when I read it, I decided to give it to my stepdad, Doug, as a gift. After he read it and loved it, it had an influence on him as well. Whenever I would ask him how he was, for 22 years after that, he would answer, "It's my best day so far!"
In looking for a photo of the cover of this book, I found this news article and photo (below) about Brother Durrant, who shared some great gems of wisdom in the interview: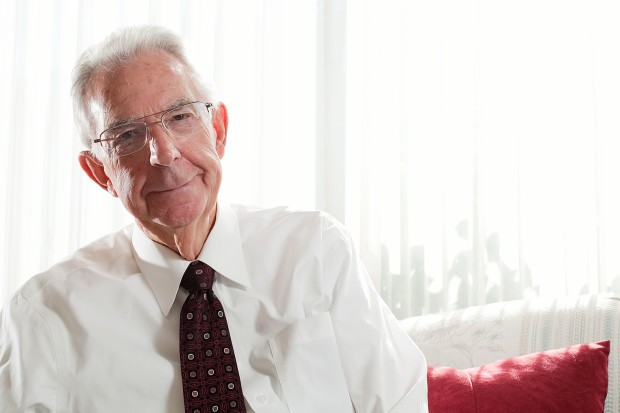 "George D. Durrant, popular Utah County author and artist, has a life goal to uplift. He's good at it, but it wasn't always so. He recounts sadness that began as a teen.
" 'I had a brother that was an all-American athlete, and people expected me to be the same,' Durrant said. 'I couldn't pull it off, so I always felt like a nobody. It has been a pain in the soul that has been there all of my life.'
"However, with that pain came perception that would shape him later as a teacher and leader. He said that he always prayed to be a star, but sitting on the bench helped him become who he is today.
" 'I know how people on the bench feel,' Durrant said. 'I try to affirm people and think they have so much to offer. You have to stop and help folks, not because they have broken-down cars, but because they are broken-down people. I'm a 'little guy' person. I never played in the major league and I'm not a war hero. My experiences relate to the "little guy." '
Brother Durrant has some great advice on raising amazing children:
"However, the crowning jewel of his life experience was raising eight children and being married for 55 years to his wife, the former Marilyn Burnham.
" 'Raise kids with love and seek inspiration,' Durrant said. 'Don't try a bunch of fancy stuff. Let kids thrive in the home. Support them and praise them. Have a sense of humor. Don't make kids want to run away from home. Treat them in a way to make them want to run to home.'
Hats off to George and the way he has blessed my life!
People change our lives because of how they influence and the choices we make because of their influence.
My own family has blessed my life this past year by how they've faced their challenges.
Here are a few examples of how: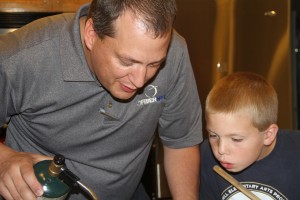 Work has been particularly challenging this year for Lane. It's not easy trying to run a small company. This has meant even more hours for Lane at work, sometimes during the night and definitely 6 days a week.  Sundays there is other work to do at church, and sometimes there are emergencies at work at night or on weekends. (Kind of like being married to a doctor.)  Being the provider is a lot of responsibility. We pray a lot for help, and we've seen a lot of prayers answered. Seeing those answers makes us more humble as we recognize the little (and big) blessings that make such a difference, like when the teenagers get in a car accident that totals the car, and then being able to find a used car that costs just the same as the amount we got back from the insurance–but with a fuel economy 300% better! (Can I just tell you how nice it is to fill up a car and have the tank full at $30 instead of $100?) In the photo above, Lane and Pete use a blow torch to crystallize the sugar on their crème brûlée. As hard as it can be, I love how Lane can put work aside for a minute to enjoy being a dad and a husband. It makes for great family memories.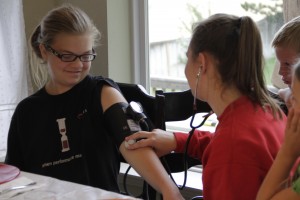 Sarah is a changed person from last January. She worked really hard in school. Things did not always go the way she hoped in her college life, and we appreciate seeing how she's tried to adjust to her situation. A broken wrist right before her live harp audition (to be a music major) was one of bumps in her road. Nothing like trying to play in the university orchestra in the Phantom performances when one of the hands you're supposed to use is inaccessible! This challenge helped her make important decisions about her major, about only taking Spring term off of school and going to EMT school while also going to school full-time pre-med at BYU. That was a lot to undertake in one year. But she really persevered. We ran into financial and transportation challenges. Those were frustrating, but we're grateful for faith and prayer and the answers that came that made it possible for her to accomplish her goals and continue moving forward. It's really great to work as a team to meet these challenges: Sarah, parents, and God. One of the things that especially touched us was when Sarah, who on a few occasions, got to bed so late after finishing homework and then arose a few hours later to attend the temple with her siblings.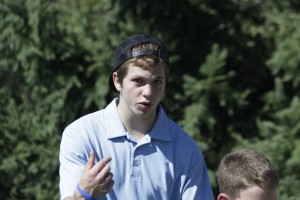 A lot of people have made nice comments to me about Nate this year, and you know what? They're true. He is a great guy. Nate has really inspired me this year. He has worked hard in school, he went out on a limb going for student council and has been a real contributor. He made a big leap of faith in choosing to graduate early and squeeze two semesters into one while doing school service and working a job. I think that neither of us realized what a challenge that would be. AND he helped coach Pete's soccer team this fall (photo above). Seriously, we love having Nate around.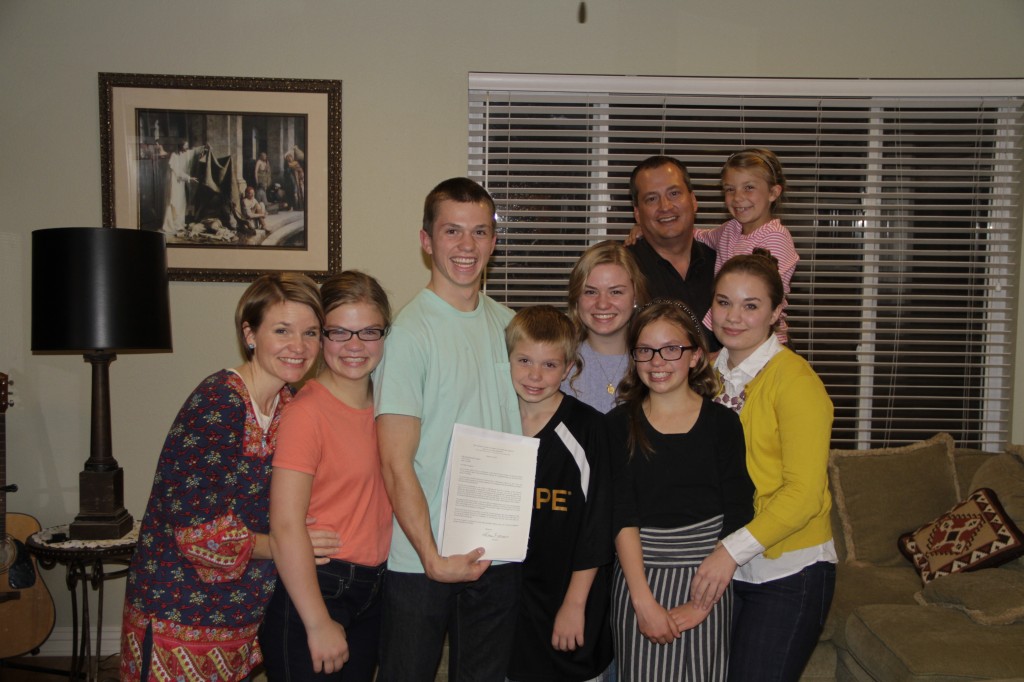 Julia met her own challenges with courage this year. High school is no picnic! We're especially excited for the way she has chosen to spend her time, and we've seen the way she listened to the Spirit while making those choices. The result has been blessings to her physically, emotionally, and spiritually. This has had a ripple effect on our family. I feel strengthened every time I hear her pray. Julia was really grateful that she got to be in the same school with Nate even if it was only for one semester before Nate leaves for his mission. The two of them are beginning to see how precious this time together has been and will be later in life as they look back. The night of Nate's mission call we were all a little emotional, thinking of him going!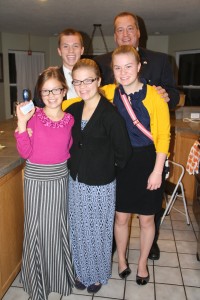 Rebecca has been pleasantly surprised to find that the adjustment to 8th grade was easier than last year, thanks to making some wonderful new friends at school AND having her sister, Eliza, at school with her. She and Eliza are good friends. They will even get up at 4.30 am to go the temple in some mornings, like when Liza went to the temple for the first time (the photo). Rebecca has been such a team player for our family this year, helping me out a lot at home with dinner or keeping younger siblings "corralled" doing homework, etc. when I'm with another child at a lesson. Success in caring for those younger children is often fraught with challenge, but she is learning to be more patient as she tries, and I keep looking for ways to make that easier for her. We all grow up together, Lane and I included.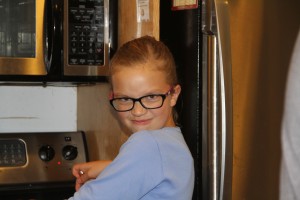 Eliza has had the challenge of adjusting to junior high life, which means getting up a lot earlier and managing her time even better. She has been an at once an example of self-discipline and nurturing. We really appreciate how she adds a spirit of fun to our home as well, like at our "Chopped" Family Night when she and Sarah teamed up to win the mustard-marshmallow-mint dessert challenge!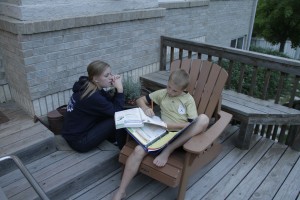 Peter really had to adjust to a major increase in homework this year, and that means he and his parents are still working out developing the habits needed to get it all done and be balanced. It can be a challenge emotionally to be patient with each other during that process. Peter has really stepped up to the challenges. It's a boon to have siblings like Julia who will help him with your homework. Hooray we can face challenges and solve problems as a whole family!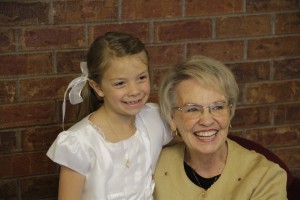 Anna has spent a good part of her life waiting. That's what happens when you're the family caboose. Anna even had to wait a month for her baptism, but it was such a special day and worth the wait. (We're so grateful for the family members who were able to be there that day. We know all the grandparents wished they could be there.) Anna's example of patience in waiting has been a gift to me as a mother this past year. When she waits understandingly for me to come practice with her or to read to her at bedtime, it makes me want to be a better mother.
I have to include a word about my mom, pictured above, as well. She's coming up quickly on the one year anniversary of my step-dad's death which means becoming a widow after 30 years of devoted companionship. I have watched my mother be amazing!  She allows herself some time to grieve when she needs it, but otherwise, she meets each day with a smile, a prayer, and a desire to serve others. She has come to help me with the music at the elementary school, and she sings in a community choir. She is always helping a neighbor or a relative. She sometimes even takes a nap when she needs it! Her home is a hotel. I love watching how her faith in God and her own strong will keeps her going. Her smile is contagious. I sure feel blessed to be her daughter!
For those of you who have made it to the end of this post, let me congratulate you.
🙂
I give my family and myself a pat on the bat for doing the same with this year.
I thank the Lord for our best year so far, and look forward to an even better year in 2014, one best day at a time. (Miss you, Doug.)
Happy New Year,
Liz 🙂
P.S. In looking for the MTC link, I saw that the MTC president and his wife are the Nallys! Sister Nally was Nate's violin teacher when he was 4 years old! She only taught him for about 6 months, but he still can play Twinkle on a violin! 🙂 He won't be at that MTC, but it's still fun to remember her.
---
---