My Monster Mama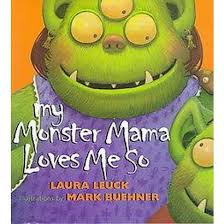 My Monster Mama loves me so,
Let me tell you how I know.
I was sitting in the BYU ballroom at a dinner this month, watching a "Family Home Evening" given by President and Sister Samuelson and one of their daughters and her little children. For her part, Sister Samuelson shared this book with all of us. President Samuelson described how she has a book club each month with their grandchildren. I don't know if she mails each family her selection, but I think it is a MARVY idea, and I want to do this when I'm a grandma, too! Her grandchildren had heard the words on the pages and could fill in some of the "blanks" from having heard the story, which is easy to do, because the book is so fun to read…and read again.
While Halloween is not my favorite celebration, I really love this book. I have read it maybe a hundred times over the years. I even used it last month to teach a business writing training! I recommend it to anyone, Halloween grinches and aficionados alike.
Why? Because we all can understand how much a mother's love is demonstrated by the many, daily kindnesses that nurture us in such important ways. (I'm so grateful for my mother, and all the loving things she has done for me, even recently. Just this morning, I went down to my food storage to get a jar of pickles for lunches, and saw about 8 or more quart jars of homegrown, home canned dill pickles, lovingly prepared by my mom for our family. She's amazing!)
Happy Reading,
Liz 🙂
---
---