RWM: Mysterious Benedict Society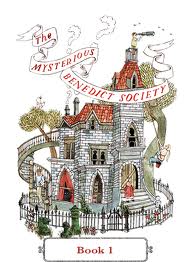 I have so enjoyed reading aloud in some of my children's classes over the years. Previously, I have read picture books, short stories, story excerpts, and poetry. This year it has been particularly fun to go in and read a story over a series of weeks or even months. The way we do it is I read one day a week for about 25-30 minutes, and the rest of the days, the teacher plays an audio recording of the book. (I wish I could read every day; alas! I can't.)
The first book I read this year was Miracles on Maple Hill, and we all REALLY loved it. That book has so much potential for related learning: connections to nature, geography, history, emotional development. Wonderful stuff.
The Mysterious Benedict Society is a completely different feel from Miracles, yet it also has great potential for connecting ideas (history, education, government, orphanages, social/emotional learning, even Morse Code). It is a delightful journey into a children's lives and minds. (Visit the website and you will find more background and plot summary about the book.)
All of our family (who has read it) has loved this story!
Happy Reading,
Liz 🙂
---
---