November 2014 family book club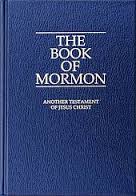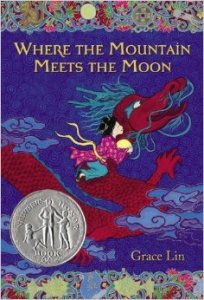 I have changed our monthly book club older read to The Book of Mormon. We actually read this book (nearly) every day as a family, and we read it individually, so why would I do that?
Well, part of it is selfish. I have to decide carefully where I'm going to spend my reading minutes, so to speak. And I have a goal to finish the Book of Mormon twice this year. So I am going to finish it in November and then finish it again in December. It is a different experience reading the Book of Mormon cover-to-cover quickly, as opposed to studying it every day, only verses at a time. And I know I'm not the only one who set a goal to read it through this year in our family. So hopefully, having it as our family older read for both November and December will help us accomplish our goals.
I listened to Where the Mountain Meets the Moon earlier this fall and found it to be a study in Chinese storytelling, with a wonderful moral at the end of all of the stories. At first I felt like the story kept getting interrupted by all of the folk tales, but eventually I understood how all the sub-stories fit together and realized how very much like life that is!
We'd love to have you join us in our reading journey! If you read either of these books in your home and want to post your comments, or even write a guest post, please comment or contact me! We welcome you!
Happy Reading,
Liz 🙂
P.S. My nephew was a counselor at a Brazil HEFY this summer. Here's a sweet video one of the participants (or counselors?) made from that experience:
P.S. The reason I have this video posted is that I originally chose Promise of a Pencil  by Adam Braun for our older read. But I soon discovered that it contains quite a lot of profanity, which mean I didn't work with our "three strikes and your out" general family media screening policy. But it doesn't mean that the story isn't worthy of getting to know or that the foundation that Adam and others have created is wonderful, and I am learned from how far I read. I am going to share what I learned with my family at the dinner table or some other setting. I hope some day Adam will republish the book with the profanity removed! Ah ha, an edited version! 🙂
---
---