RWM: Somebody Loves You, Mr. Hatch

Valentine's Day is around the corner! This is one of my favorite books for this holiday.
Mr. Hatch lives a singular, solitary life working at a factory, where his daily routine seems meaningless. One Valentine's Day, he receives a box of chocolates! What a surprise and thrill to find that someone loves him! His belief that he is loved changes the way he lives. For a time, he is extroverted and generous. His life begins to be filled with gladness and love. But it doesn't last. Sadly, the postman returns to say that he misdelivered the box. Mr. Hatch is heartbroken.
Mr. Hatch feels affirmed in his outlook that he really is unloved and unneeded. What will those around Mr. Hatch do to change this circumstance?
This wonderful story teaches great lessons about how our outlook on life affects our behavior as well as how the way we reach out to others changes their lives. A GREAT Valentine read!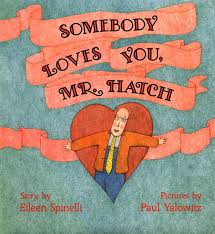 Happy Reading,
Liz 🙂
(This is a re-post from my former book review blog.)
---
---