RWM: The False Prince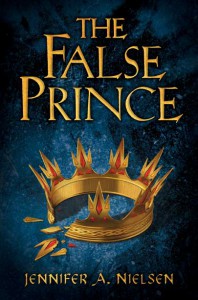 Last week, my mom, Eliza and I drove down to Mesa. Arizona, together for Eliza's first Irish dance oireachtas. We packed up and planned to leave at 5 am on Thursday morning. The morning of our trip, we both waited 90 minutes for each other to come to the other's home before calling to see when we were leaving. We figured out our miscommunication (both thinking we were to meet at the other's home and neither wanting to wake the other with a phone call) and got on the road. Then we spent the rest of the day in a delightful road trip.
My mom is the best!
She had packed a scrumptious lunch, which included fresh pineapple (I love fresh pineapple). And three types of cookies! The day was absolutely beautiful, the road smooth, and we had nothing but enjoyable conversation, some good nap time, and safe driving.
AND a grippingly good read!
My mom had purchased a new book (The False Prince by Jennifer Nielsen) that we started reading aloud. When we got to Mesa, we didn't want to quit. So we continued to read in snippets separately when we could, including at the oireachtas the next day.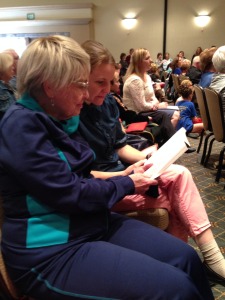 The dancing was fun, but the reading together was even more fun. (We paused so we didn't miss watching my niece.)
We finished the book that day and were terribly happy to find out that there is a sequel. We wanted to find a bookstore on our way home, but we were too tired for a side trip with an early morning ahead. Thank goodness for Kindle.
We both started the second book, The Runaway King, which I'm in the middle of right now.
Fabulous. Nothing like a great reading adventure! With a main character as clever, funny, and likable as the Scarlet Pimpernel! (Even better, though, is having a mom who still helps you find one!)
Happy Reading,
Liz 🙂
P.S. I really love chapter 13 of The Runaway Prince. I wish anyone who comes to stay in my home could have an experience like that.
P.S. I can't wait for these books to be made into movies. They could be as delightful as The Princess Bride.
---
---