The Red Scarf Girl and Sadako and the Thousand Paper Cranes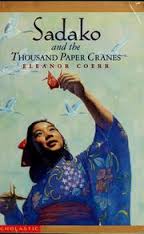 We watched the first episode of Granite Flats tonight, and it got us talking about communism, the fear of communists in our country in the Senator McCarthy years, and war. That led Eliza to ask, "Was it right for [the United States] to drop the bomb?" What a question!
We talked about the problem of nations warring with each other and all of the innocent lives that had been lost. We talked about some of the reasons why the bomb was dropped and some of the horrible consequences that resulted from the bomb. "Remember Sadako?" I asked. No, she hadn't read the book yet.
It's interesting, as a mother, how you do something with some of the older children and forget to do it again with the younger children. I remember reading Sadako and the Thousand Paper Cranes aloud to my older girls. We all wept as we finished this true story. Such heavy consequences!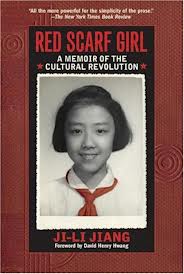 Eliza asked about The Red Scarf Girl she had also seen some of us read. That is an excellent introduction to communism and the effects of it upon the lives of families and children. Just a heads up: it is not light subject material. I wouldn't read it to or suggest it to be read by a younger child. Personally, I would not recommend the book to someone younger than fifth or sixth grader. 
Biography is my favorite genre, and historical fiction after that. So I love finding nonfiction books that teach and inspire and grow empathy in my children. These are two excellent books that, in my mind, do just that.
Happy (or in this case, sometimes Sad) Reading,
Liz 🙂
P.S. My dad did a wonderful thing with a group of grade-school children not long ago. He is a wonderful story teller and out loud reader. He read Sadako to a class, and then they made paper cranes. He created a mobile to which he hung a number of these paper cranes, and the school hung it in the library. What a wonderful project! Way to go, Dad!
---
---