RWM: The reviews are coming in on Tiger Mother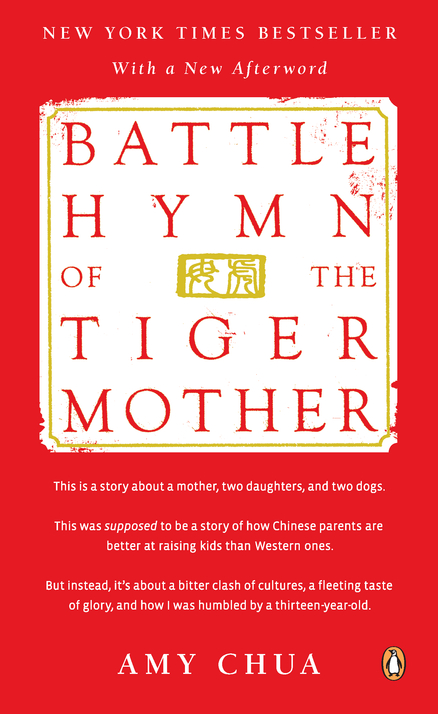 I finished "Tiger Mother" (as we've been calling it) today. Julia, Rebecca, and Eliza finished long before me, and Peter and Anna have been dipping into the chapters.
WOW. Quite a story!
I love Amy's honesty and how she made writing her biography a family effort. I love her Christlike tenacity and utter dedication to her children's development. I love her amazing work ethic.
I was curious to see what my children thought of it! Here are reviews from Julia, Rebecca, and Eliza:
"This book was beautifully written. The author has a wonderful talent for writing a book that is so interesting. Although I do not agree with her views on parenting, her book was very enjoyable and exciting to read. This book was eye-opening because of the different view on parenting the author believes is the right way. I would definitely recommend this book."
"Battle Hymn of the Tiger Mother was a very intense book. But I absolutely loved it. Definitely would recommend it. This book is about a Chinese mom, pushing her kids to be number one in all subjects except PE and drama. If you were second in anything, you were a huge disappointment, and you shamed your parents. This books really digs into the lifestyle of a "tiger mother" (read it and you'll find out what it means). It makes me think of how easy my life is compared to those with tiger mothers. I love this book. Read it. Right now."
I asked Rebecca how I compared to a Tiger Mother. She said, "You're definitely not as strict at all." I think before reading this book, my children probably would have said I was very strict compared to other parents.
I relate to Amy on several levels. Often I have felt that because of what I expect my children to do, they are not out playing like other children for hours and hours. But I haven't regretted that at all, especially as I see what my older children have learned before they are leaving home. Then I have felt motivated me to do better, to help my remaining children learn more and to do better at helping them learn the most important aspects of living: kindness, service, sacrifice, discipline, hard work, honesty, virtue. I can't teach them everything, but I want to try to do my best to do whatever I can to teach them.
I do see some differences in my life and Amy's. As a mother of seven children and member of a very large extended family, as well as a member of the Church of Jesus Christ of Latter-Day Saints, my obligations to a large circle of people makes it impossible to do what she did. As a young mother, I really wanted  to support my children in becoming incredible musicians, but then I discovered that I didn't have the skills yet to do that. I didn't know how to be pregnant and nursing alternately for years on end, feed and clothe my family and maintain our home, deal with health problems, serve in my church and community, practice with each child, teach them how to do work around the house, help them to do homework, help us all be physically fit, and manage our finances.  AND maintain emotional and mental balance.
I didn't know how to do it all. I don't even want to do it all. Not all at once.
Over the last two decades I have learned that the things that matter most to me are that I teach my children to be disciples of Christ, and that there are so many ways to do that. I think I can use prayer, scripture study, family night, sports, music, housework, service, any talent, academics, etc., as school rooms for Christlike discipline. My biggest tools for accomplishing that? Prayer, personal revelation, my personal example to them ("Come, follow me"), and working alongside a child, as Amy models. I personally have tried to devote our "extra-curricular" time and energies toward one area that really matters to me (such as music) and one area that really matters to them. Somehow we have been able, with God's help, to figure that out so far. We can't do it all, but we can enjoy doing some things. I'm not driven for them to be world-class at anything unless they want to be. But whatever they do, I want them to be Christlike, which includes seeking for the best that is in us, such as getting A's and being prepared for performances or games. And if my children are trying to be Christlike when they leave home, then I feel like I have succeeded. Because that is what matters most to me. Amy brings so much of her parenting perspective from her heritage.
Amy's upbringing hugely impacted her parenting style. My childhood also has had the most impact on my parenting priorities. As a child, what I wanted most crystallized in my heart when I saw my family falling apart in front of my eyes. I felt like, "Who cares if we are rich? Who cares about success? I just want us to be a happy family!" And so that was what I set my sights on, way back then.
Hard work is certainly an enormous part of being a happy family, but it's also not the only part. There's also virtue, fidelity, kindness, sacrifice, integrity, good humor, patience, forgiveness–and I want my children to learn those things at home even more than I want them to learn to be beyond excellent on any instrument.
Amy Chua models Christlike parenting in how unfailing she is in supporting her children. It reminds me of the verse in Jacob 5 in which the Lord of the vineyard weeps and laments, after all his nurturing efforts, "What could I have done more for my vineyard?" I want to be able to say that I have done everything that I could (whatever that meant at the time) in order to prepare my children for the future in the best way I know how.
Her book motivated me to want to do better. Thanks, Amy!
Like my daughters, I definitely recommend this book!
Happy Reading, Liz 🙂
P.S. Here's a great quote from Elder Neal A. Maxwell when he addressed BYU students in 1999 that I was reminded of while reading Tiger Mother: "In the passing years I have developed much appreciation for the institution of the family. Other institutions simply cannot compensate fully for failing families. If we will hold fast to the Church's proclamation on the family, we will see that we hold the jewels, as it were, that can enrich so many other things. Let the world go its own way on the family. It appears to be determined to do that. But we do not have that option. Our doctrines and teachings on the family are very, very powerful, and they are full of implications for all the people on this planet. "Though I murmured as a young man at times with chores, I have acquired in the space of this passage of time a hardened view of the spiritual necessity of work. Even if work were not an economic necessity, it is a spiritual necessity. If I have any concern about your generation, speaking collectively, it is that a few of our wonderful youth and young adults in the Church are unstretched—they have almost a free pass. Perks are provided, including cars complete with fuel and insurance—all paid for by parents who sometimes listen in vain for a few courteous and appreciative words. What is thus taken for granted, however innocently, tends to underwrite selfishness and a sense of entitlement. Selfishness and a sense of entitlement don't need any transfusions in our society today. I know that having said those things to you now, and having spoken plainly, there are some here who have worked exceedingly hard and need no comment from me on that score. As I look at the rising generation, the gospel of work, which is part of the fullness of the gospel, will need more attention, not less" ("Sharing Insights from My Life," 12 January 1999).
---
---