RWM: What do you say, dear?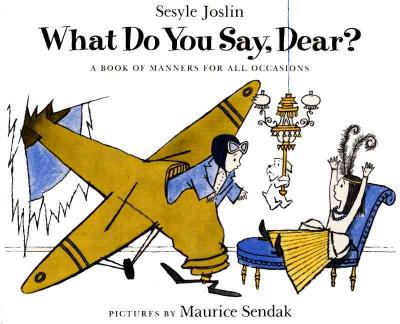 This morning I was serving my younger children breakfast when I said to them–prompting them to use better manners–"What do you say, dear?"
I realized I had just said what my mother used to say to me, because of a book she read to me when I was young: What Do You Say, Dear? by Sesyle Joslin. This book is so memorable because of the darling way it approaches teaching manners. The situations are absurd, and the illustrations by Maurice Sendak are as darling as you could want. Perfect for teaching children!
For example, "You are a nurse and you rush to see a patient because a dinosaur bit him. You bandage him all up, and he says, 'Oh, Nurse, you have saved my life. Thank you.' What do you say, dear?" And you turn the page to see the nurse graciously saying, "You're welcome" as the patient with his amply-bandaged finger and a lollipop smiles in his hospital bed and the dinosaur peeks through the door.
Manners are becoming a lost art. I don't want them lost in my home! I keep trying to teach them and am grateful for my children trying to learn them. This sweet book helps make it all the more fun.
Happy Practicing Manners, Dear,
Liz 🙂
---
---