Summer reads review
I had dreams of reading many books this summer. While I didn't accomplish that desire, I did enjoy the books I read/listened to! Here are a few that I wanted to share about now that summer is over and my books are overdue: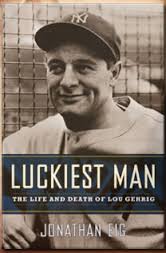 Luckiest Man: The Life and Death of Lou Gehrig by Jonathan Eig. I listened to this as I ran, walked, tried to get back to sleep, and worked. What can I say about Lou Gehrig? He is an impressive man. He worked so hard, day in, day out, never missing games for any reason. He lived a clean life and was a remarkable example, particularly in an occupation where many of the players did not live virtously. He honored his parents, devoting so much of his life caring for them, especially his mother when she suffered health problems, and not just for a short period of time, but for decades!
The title "Luckiest Man" comes from Gehrig's final speech. This video is not the entirety of the speech.  The complete speech can be found here, the text of which indicates his endearing humility and depth of character.
I learned much more about Lou Gehrig's disease (ALS) than I had before. I am so grateful for the recognition that Lou brought to this disease so that funding and research could be increased to help those who suffer, as well as their families.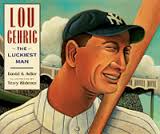 There is a wonderful picture book version of this story: Lou Gehrig: The Luckiest Man by David A. Adler (illustrated by Terry Widener).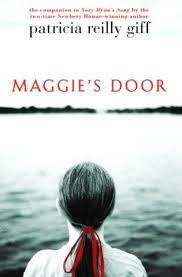 Maggie's Door by Nory Ryan was a lovely surprise that my sister-in-law shared with us. Three of us aunts were carpooling three cousins to a soldier camp that was about an hour's drive away. She checked out this audio book for the boys to listen to on their travels back and forth each day. Of course, I had to listen to the whole thing after my turn to drive! This is an absolutely beautiful story of a young Irish girl who leaves Ireland during the Great Famine. Kirkus Reviews said it well: Maggie's Door is "heart-wrenching and unforgettable."
My family enjoyed Maggie's Door so much that we went to the library and checked out some of the other books by Nory Ryan, which Eliza and Anna very much enjoyed (and I didn't have time to read. Another summer…).
---
---