Talking Like the Rain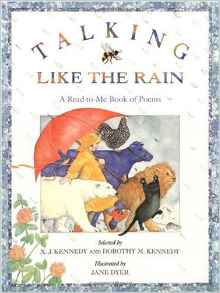 It's been raining this week (hooray!), and I couldn't help but think about a book of poetry we have called Talking Like the Rain: A Read-to-me Book of Poems, selected by X.J. Kennedy and Dorothy M. Kennedy and illustrated by Jane Dyer. This beautiful book of poetry was given to me at my bridal shower (yes, I had a children's book-themed bridal shower. I was thinking ahead to reading the children we hoped to have).
The title comes from this quote from the book Out of Africa by Isak Dinesen:
"One evening out in the maize-field, where we had been harvesting maize, breaking off the cobs and throwing them on to the ox-carts, to amuse myself, I spoke to the field laborers, who were mostly quite young, in Swaheli verse. There was no sense in the verse, it was made for the sake of the rhyme…
"It caught the interest of the boys, they formed a ring around me. They…awaited eagerly for the rhyme, and laughed at it when it came. I tried to make them themselves find the rhyme and finish the poem when I had begun it, but they could not, or would not, do that, and turned away their heads. As they had become used to the idea of poetry, they begged: 'Speak again. Speak like rain.' Why they should feel verse to be like rain I do not know. Ir must have been, however, an expression of applause, since in Africa rain is always longed for and welcomed."
This book has such lovely (and how appropriate for rain!) watercolor illustrations that accompany the enjoyable collection of poems to read aloud to children, including one of our family favorites, "The Purple Cow" by Gelett Burgess:
I never saw a purple cow,
I never hope to see one;
But I can tell you, anyhow,
I'd rather see than be one!
---
---