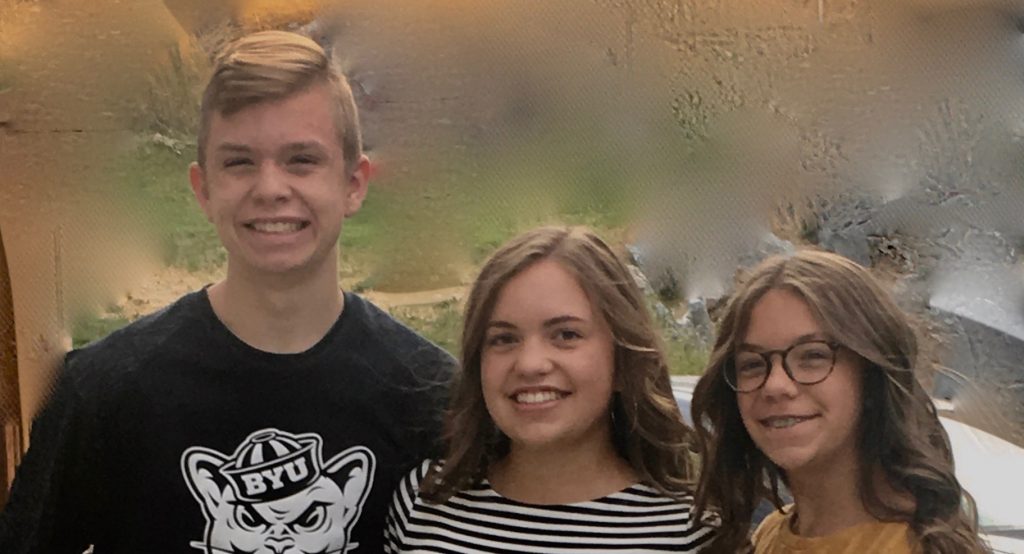 Where love is, there God is also. 
Where love is, we want to be. 
Guide us, his truths to follow; 
Help us obey him faithfully.
Where love is, there God is also. 
We think of him rev'rently. 
Teach us to pray, to talk with him above 
And know that he will guide us with his love. 
The comfort of loving arms around us, 
A song that makes us want to sing, 
The happiness we feel when love has found us, 
'Tis love we get when love we bring.
Where love is, there God is also. 
And with him we want to be. 
Show us the way and guide us tenderly
That we may dwell with him eternally.
This beautiful song, "Where Love Is" by Joanne Bushman Doxey and Norma B. Smith, teaches the essence of gathering our family for eternity. Without the atonement of Jesus Christ and sacred ordinances provided by his authorized servants and available in holy temples, we could not gather our family for eternity. And without love, we wouldn't have the power to do so either (see Moroni 7:44-48). We must have love in our hearts in order to do the work of God. His work is to gather His children for eternity, and we can be instruments in His hands as parents when we have pure love in our hearts and in our hands and do the things He has asked us to do.
I have seen that there is some confusion today about what love is. There is the saying "Love is love." This is misleading. Love is not a desire to do something that goes against the will of God. "If ye love me, keep my commandments," Jesus taught. If we want to do something that is contrary to kindness, that is not love. Yelling at our children because they did something wrong is not love. Humiliating them because they break a family rule is not love. Abuse in any form is not love. Destroying someone's property in the name of proving a point is not love. (See 1 John 4:7-21, for example.) We must speak truth "bodly, nobly" to our children and others without causing harm to them. My mother taught me that we should be "wise as serpents, and harmlesss as doves" (Matthew 10:16).
"Pure Christlike love flowing from true righteousness can change the world."

Elder Jeffrey R. Holland, "The Cost–and Blessings–of Discipleship," April 2014
When Lane and I were sealed in the temple, President Spencer H. Osborn, who performed our sealng, counseled us about love. He referred us to the last verses of Doctrine and Covenants 121, reminding us that nothing can be done to influence one another in marriage and in a family except"by persuasion, by long-suffering, by gentleness and meekness, and by love unfeigned;/ By kindness, and pure knowledge, which shall greatly enlarge the soul without hypocrisy, and without guile…."
This has been a hard lesson for me to learn (I believe I am still learning it!): I can't change anyone in my family or make them become something. I can love them; I can teach them truth; I can serve them; I can set a good example; I can encourage and cheer them on. And there is great power in this!
So in order to help our family prepare for eternity, we have tried to focus on those things that we can do that will bring the most power from heaven upon our family WITH LOVE. Our goal has been to have love at home. We have been so blessed as we have tried to:
Pray together daily
Study the scriptures together daily
Sing hymns and Primary songs together
Gather for family home evening weekly
Attend church weekly
Give hugs and kisses daily
Hold hands
Work together
Play together
Talk together
Cry together
Resolve problems together
Apologize often
Have fun together
Create things together
Serve each other
Serve our neighbors
Save money for something special together
Sacrifice for each other
Carry on happy traditions together
Make music together
Plan together
Hold home church together (during the COVID-19 pandemic)
Study together
Set goals together
Do little kindnesses for each other
That's a long list. We didn't do these things all at once. These are things we have tried to do over all the years we've been a family, one minute at a time.
There are so many ways we can create love at home. I know what it feels like when there is not love at home. I prefer feeling love. It's such a wonderful feeling to feel safe, and happy, and loved at home.
"Where love is, we want to be."
To read more posts about how we've tried to create love at home, click on the following links: